Beefeater 24 London Dry Gin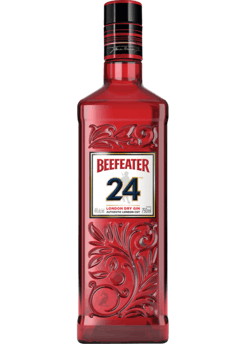 The inclusion of Japanese Sencha and Chinese Green Tea in the botanical blend distinguishes Beefeater 24 from any other gin, helping to shape its unique aroma and smoothness. The addition of grapefruit peel ensures that Beefeater's signature citrus flavor is present.
Wine EnthusiastPolished, versatile and well-balanced. Clean, mild aromas of juniper and citrus, and a sweeter flavor than most gins, with a bracing, astringent, citrus-peel finish. The gin's famed tea botanicals were not apparent in tasting; it had more of a pronounced grapefruit profile. The bottle is striking, with a red base and decorative glasswork.