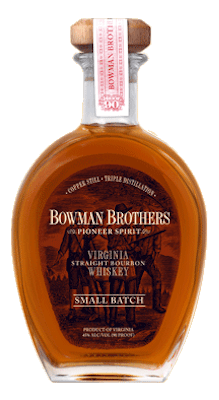 SKU: 80996002738
A. Smith Bowman Distillery Bowman Brothers Small Batch Straight Bourbon Whiskey
---
---
This small batch bourbon has been distilled three times using the finest corn, rye and malted barley. A hand picked selection of a small group of barrels are married together to create a distinct and consistent flavor profile. An amazing bourbon.
An aroma of caramelized apples and nuts meets the nose. Its complex flavor has hints of vanilla and oak, while the finish is smooth and mellow. Enjoy straight, over ice or with a splash of water.
Though it needs a little coaxing, this small-batch Bourbon is a fitting tribute to the four Bowman brothers, Virginia militia officers in the Revolutionary War. Give it some time and a splash of ice water, and the aromas and flavors open up. Look for sweet notes of almond, cocoa and caramel, plus the clove and nutmeg notes that build on the finish.