Connemara Peated Single Malt Irish Whiskey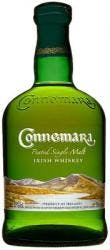 Connemara Peated Single Malt Irish Whiskey is in a category of its own. It has the unique qualities of being an Irish Whiskey that is not only a Single Malt but also has a distinct peaty flavor. By drying malted barley over peat fires, Cooley is reviving one of the most ancient distilling traditions in Ireland. The smoke rising through the malted barley during this drying process confers the peaty essence and aroma to the whiskey. This unique Irish Whiskey allows you to unearth the authentic taste of Ireland.
Wine EnthusiastSmoke bomb alert! Imbibers who love a peaty profile will enjoy this smoky-but-smooth single malt. Pair with assertive flavors, like sausages or charcuterie.