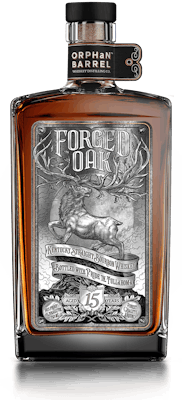 SKU: 82000767350
Orphan Barrel Forged Oak Kentucky Straight Bourbon Whiskey 15 year old
---
---
A pillar of strength rooted in time and wisdom, Forged Oak was found while foraging through the historic Stitzel-Weller rickhouses. This Kentucky Straight Bourbon Whiskey spent 15 contemplative years in charred American white oak barrels.
Forged Oak is a statuesque whiskey with aromas of cedar, maple and vanilla bean that give way to seasoned woody notes of cocoa and young berries, ultimately leading to a long, dry finish of black pepper.
This 15-year-old Bourbon was distilled at the New Bernheim Distillery and found in the old Stitzel-Weller Warehouses (both in Louisville, KY), then bottled in Tullahoma, TN. The aroma and palate show bold vanilla and a subtle waft of mesquite smoke. It finishes long and drying, with clove, cinnamon and black pepper spice.