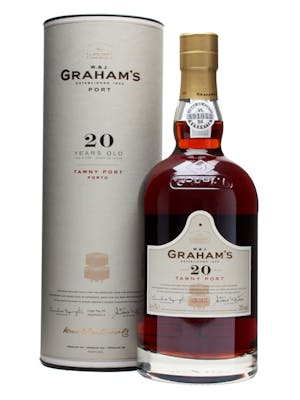 SKU: 94799010098
W&J Graham's Tawny Port 20 year old
---
---
Amber, golden tawny color. An excellent bouquet, with a characteristic "nutty" character, such as almonds, and delicious mature fruit with hints of orange peel. Rich, sweet and smooth on the palate, it is perfectly balanced, with a long and lingering finish. Graham's 20 Year Old Tawny Port pairs extremely well with vanilla ice cream or crème brulee. Serve slightly chilled to appreciate the full complexity and sensuous pleasure of this wine.
A complex and full-bore tawny, with deep, intense flavors of orange cream, glazed apricot, baked peach and roasted pineapple that are balanced by concentrated chocolate and toffee notes. The bright finish is filled with spice and supported by fresh acidity. Drink now. 25,000 cases made. (Top 100: 2013, Rank: 87)
This is a hugely dry, burnt style, very concentrated. The licorice and bitter coffee flavors are dense, layered and well balanced with the acidity. A serious wine that demands attention.
The 20-Year Old Tawny from Graham's has a lifted grilled walnut, mandarin and clove-scented bouquet that blossoms in the glass. The palate is very harmonious and smooth in texture, offering orange rind, marmalade and chestnut. I like the bitter edge that develops towards the finish and the stem ginger that lingers on the aftertaste. My only quibble is just a slight lack of persistence, but otherwise this is a satisfying Tawny Port, on this occasion rather outclassed by Dow's equivalent. Tasted at the Symington Tawny Port tasting at the Tower of London.