Jim Beam Maple Kentucky Straight Bourbon Whiskey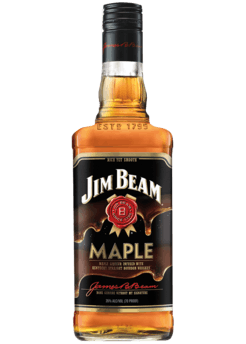 What happens when you infuse the world's finest bourbon with the rich taste of maple? Our expert distillers found the answer with Jim Beam Maple: a perfect balance of warm aromas and a hint of charred oak complete with a subtle, smooth caramel finish.
Wine EnthusiastThis maple-flavored Bourbon features rich and sweet maple and vanilla aromas and flavors, plus a lingering butterscotch note. A flicker of heat on the finish reminds one there's actually whiskey in there, and serves to balance out the sweetness with cinnamon and ginger sparks. Surprisingly addictive, this is one of the few flavored whiskies that works equally well mixed or sipped straight up.