Martin Miller's London Dry Gin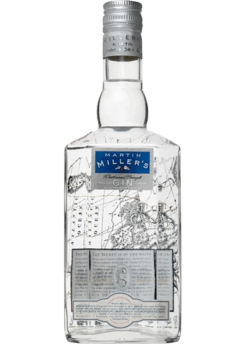 Distilled in England using traditional methods and blended to bottling strength with Icelandic spring water, the purest water in the world. 10 aromatic botanicals used in its distillation and a secret ingredient, cucumber. Finish of citrus and juniper on the palate.
Wine EnthusiastOpening whiffs are of freshly ground black pepper and cassia bark; after six minutes, the intriguing bouquet adds subtle fragrances of licorice, juniper berry and bitter orange peel. The prevailing early-on flavors feature the bitter orange peel; at midpalate, juniper dominates, effectively vanquishing its flavor peers. Turns pleasantly floral and fruity in the finish.