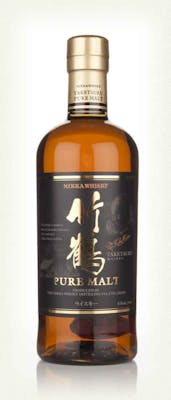 SKU: 4904230035800
Nikka Pure Malt Taketsuru Whisky
---
---
A non-age-statement expression of Nikka Taketsuru Pure Malt whisky, named after the company's founder, Masataka Taketsuru. It features plenty of whisky from the Miyagikyo distillery, as well as percentage of malt matured in Sherry casks to give it a rich, spiced nose.
Tasting Note by The Chaps at Master of Malt
Nose: Sherry-soaked plums, raisins and green apple slices. Honey'd cereal, black pepper and hint of barrel char.
Palate: Espresso beans, milk chocolate, tobacco leaf and lingering Sherried fruit. There's a slight touch of smoke as it develops...
Finish: Elegant smoke continues, with golden barley and a final hint of coffee.
Overall: Superb Japanese blended malt from Nikka.
Customers Who Bought This Also Bought…
Nikka From The Barrel
Nikka From The Barrel
(50cl, 51.4%)
(108)
$42.15
Yamazaki Reserve
Yamazaki Reserve
(70cl, 43%)
(36)
$59.14
Nikka Coffey Grain 70cl
Nikka Coffey Grain 70cl
(70cl, 45%)
(14)
$61.21
Hakushu 12 Year Old
Hakushu 12 Year Old
(70cl, 43%)
(29)
$98.60
Nikka Black
Nikka Black
(50cl, 43%)
(13)
$50.68
Togouchi 12 Year Old
Togouchi 12 Year Old
(70cl, 40%)
(2)
$75.64
Nikka Coffey Malt
Nikka Coffey Malt
(70cl, 45%)
(16)
$60.65
Togouchi Premium
Togouchi Premium
(70cl, 40%)
(10)
$44.95
Miyagikyo Single Malt
Miyagikyo Single Malt
(70cl, 45%)
$73.94
Tell us what you think of Nikka Taketsuru Pure Malt
Review
Summary
Rating: None
Submit
User Reviews of the Nikka Taketsuru Pure Malt
A great morning whisky.
An exceptional blend, very drinkable and affordable.
The nose is bees wax, raisins with a light vanilla charcoal smoke in the back.
Opens with warm spiced citrus and a short smokey pepper finish.
23rd September 2017
Great Japanese whiskey
Very nice Japanese whiskey, enough complexity but still pretty smooth
25th August 2017
Taste is not good, heavy, not smoo
Its not smooth, not nice, but heavy taste. Even with ice cubes. I Will not recommend.
21st August 2017
Doesn't stand out
I looked forward to trying this from some of the reviews I'd read, but ultimately thought it neither stood out nor offered anything unique when compared with a variety of other whiskeys at a similar price point. Flavor was fine, but underdeveloped. Simply put, it's unmemorable. At the current $60 price point, there are a number of far more enjoyable options to buy.
21st August 2017
Very nice entry in to Japanese Nikka
Very nice pepper, but sweet beautiful colour
26th June 2017
Great Japanese whiskey
This is a great whiskey. It is well put together and the flavors are complex.
23rd June 2017
I highly recommend it.
A very nice whisky, a classic example of Japanese craftsmanship. The Scottish origins are evident, and is capable of standing alongside many a scotch.
This has a touch of smoke, is sweet with a bit o fruit, vanilla and a touch of nuts. This is well balanced and I will keep it in my cabinet as part of my collection. Makes for a nice, reasonably priced daily drinker. I doubt I will ever tire of it.
31st March 2017
Nice
Although not an expert, I find this whisky one of the best tasting experiences I ever had. True to the above description 100%. I would definitely suggest it.
24th March 2017
JW Black
This is just JW Black, at double the price. I can't say I've tasted them side-by-side, but I've had JW Black and JW Blue ... and this is no JW Blue. (And even JW Blue was just okay). I haven't tried any of the other JW expressions, but seriously there's no need to. This thing is right at the Black level, just double the price.
16th March 2017
Good for its value
Seems pretty close to a Yamazaki 12 to me although more fruit on the palate. Not bad but I agree drinking too much could lead to some heart burn. A Whiskey to enjoy 1 glass per session.
10th February 2017
How is this so well reviewed?
This was really rough.. I decided to buy a bottle and line it up against previous age statements in a blind tasting... well it wasn't blind for long.. immediately on the nose you could tell this had spirits under 3 years old in the glass.
My biggest gripe here is it tastes nothing like the previous Taketsuru bottlings.. there is no smokiness and it reminds me more of an american rye than something that belongs along side quality scotch... the aged is extremely balanced and one of my all time favorites, the NAS leaves me feeling I spent way too much... for young inexperienced whisky. There's nothing wrong with young american rye (not my favorite, but there's nothing wrong with it), but they should bottle this spirit under a different name ...
Normally, I steer clear of NAS, I don't buy into any reasoning except that they're trying to hide young whisky because of supplies... and it's not like they're heavily discounted versus aged versions, they still want the same amount of cash in many cases. I made an exception here because of my love for Taketsuru and my dwindling (1/5th of my last bottle remaining) supply.
Oh well....
Oh and to the comment about the price in Japan.. that's how it is with almost all Japanese whisky... if you go to Japan you will buy it for a fantastic price... but outside Japan you pay the markup.. it leads me to avoid most Japanese whisky, it's good... but that international markup drives it outside of a respectable price point. I think my Hibiki 18 was something like $40 when I was there last a couple years ago.
23rd December 2016
Uninspiring
On it's one with nothing to compare this is likely a good whiskey but over the course of a night of tasting this some out as status quo...uninspiring...albeit solid. Not overpowering on the aroma, spicy but flat lines. One taster said "This is the white paint of whiskey. No depth to the flavour." Another taster gets the "acid reflux" sensation which some might consider a long finish.
11th December 2016
Nikka Taketsuru Pure Malt (70cl, 43.0%)
En väldigt djup, mörk och mastig doft av frukt samt lite lätt sherry som övergår till citron mot slutet.
Om jag inte visste hur mycket alkohol det var i denna så skulle jag gissat på cask strength på grund av de djupa dofterna.
Smaken är främst fruktig och maltig men man tycks hitta en gnutta havssalt samt sherry också. Man känner att den inte är lika stark som den tycks lukta, tyvärr något spritig.
Doften är så speciell att jag skulle vilja ge 5/5 genom att bara lukta på den men efter att ha smakat den är jag något besviken. Hur som helst efter att ha haft ett par droppar vatten i den så är det en ganska god whisky i alla fall som får ett helhetsbetyg på 3,5/5 med tanke på det något för höga priset.
15th November 2016
20€ at supermarket, Japan
The price at europe seems to be way off. Seems like someone is taking a big cut :)
5th November 2016
Great whisky
Spot on with the tasting notes, this is a rather splendid and very drinkable dram. I am impressed with this blended malt and highly recommend.
23rd October 2016
Brilliant
I tried this at a whiskey bar in Bethlehem, Pa over the weekend. It was so spectacular that I bought a bottle immediately on the following Monday. I am primarily a Islay man - Uigeadail and Lagavulin 16 are my mainstays. Off the island I am a fan of Glenmorangie - really enjoy the expressions [10, Lasanta and Quinta Rubin] I have tried.
That said - I have never really found a blended malt that I truly enjoyed. Until Now!
The Taketsuru is in a class by itself when it comes to blends and it holds it own against almost all the Single Malts I have tried.
And I will say this - the tasting notes above are some of the most accurate I have seen. I can honestly say everything mention comes across the nose and the palate.
Put this in regular rotation and you will not be disappointed.
18th October 2016
Last Minute catch
I just drove by the local Nikka factory near Sendai, Japan. The factory closes at 4:30 PM and I got there at 4:26 PM. The taketsuru was on sale for about 3000 Yen and I had to get the bottle quickly to the register and out of the shop. Believe me, this was one of the best last minute deals I have ever landed!
15th October 2016
A personal favourite
I enjoy the range of Scotches, from sweet and citrusy to pungent and peaty. That said, this relatively inexpensive, delicate and floral whisky is so far my favourite of them all, including quite a few at 3-4 times the cost (and not excluding some other Japanese products). I appreciate the subtlety, the complexity, the many layers and the long finish. A superb product. I can't recommend it enough. There are over 50 bottles in my Scotch cabinet. This one is always at the very front.
24th September 2016
The best ive tried.
One of the best whisky ive tried.
9th September 2016
Great
Smooth, delicious, and a little bit smoky tail. Mmmm very good. Beginning taste reminds me very Yamazaki 12 but end is different. But I prefer and will buy Yamazaki 12 .
22nd August 2016
Evolves in your mouth
Have to agree with the other comments on this page: MoM have nailed the tasting notes here. I certainly got the honey'd cereals and apple tones on the nose, which for me, then very steadily developed into dark chocolate / coffee beans. Then the smoke rises and fills your mouth like vapour.
Wow. Just wow.
I am becoming more of a mega-fan of Japanese whisky by the day. Nikka and Suntory are producing some spellbinding malts, and this is is one of those Japanese expressions that is leading the charge.
24th May 2016
Hats off to the Chaps
I've been a fan of Master of Malts for many years but your description of this particular malt could not be more accurate. Thank you for everything you do, your work doesn't go unappreciated. Sincerely, Canada; )
22nd April 2016
My go to "scotch" whiskey... John Rain would LOVE this... Perhaps even Reacher..
I discovered this rare, subtle, warrior whiskey on the top shelf of a local diner in Oakland CA on a quiet early Sunday morning in late August 2015 ... it was my birthday and I was launching into the third day of my weekend worth of celebrations and I spied a bottle of brown liquor with Japanese characters on the label ... next to the Macallan 18 yr old.. I was listening to a John Rain novel on my headset. So I chose the Japanese spirit.. OMG.. I am so glad I did. Macallan who?? what?? Yeah.. it's like that... My friends who don't even like whiskey LOVE this gem ... I'm going to order a case, cause now, just like Oakland used to be the best kept secret in the Bay Area, the word is out. I'm not even going to describe how awesome this spirit tastes because I'll just add to the noise on the bandwagon... Just gonna get my case and try not to consume the entire dozen before my next birthday in late August... :-)
1st April 2016
Simpson of Tulsa
Wow!! I am a Scotch purist for the most part. Love 15 year old Balvenie Sherry cask matured as well as Glenmorangie Quinta Ruban and Balvenie 21 Port Wood! I have to admit with a tucked tail, that this is an amazing bottle. Nice soft bite before an almost over ripe pear blast of flavor. This is followed by a wonderful fall of figs and barely ripe bing cherries. Must have some Olorosso Sherry casks involved. I could be wrong, but that is the taste I get. Don't look over this beautifull (I misspelled beautiful because it deserves more than one l(ove)) spirit. I can't call it a scotch, but to think of it as less than the spirit of the gods doesn't give it it's due.
2nd March 2016
Nikka
It tastes very deep and almost like a cask strength, love it!
The taste isn't really what I expected though and you may need a few drips of water in it.
15th February 2016
Silken smooth
Today I tasted and it is damn good and silken smooth with heavenly taste. I am fan of Japanese pure malt and will be trying more Jap single malts
15th February 2016
Very smooth
I just got my bottle today and I have to say it's a really good whiskey. It has a very nice kick to it too aside from being real smooth. It almost reminds me of a mix between a whiskey and a japanese plum wine. If your not a fan of japanese whiskey you should at least try this one because it's very good in its own way.
11th February 2016
Very Outstanding
Smoky flavor, an image of an old man appears.
Strong flavor, not like usual blended whiskey, very outstanding.
Very close to single malt.
21st January 2016
taketsuru pure malt.
outstanding
1st January 2016
Top Marks
Outstanding whisky,
this is my bottle of choice.
Nothing else comes close.
19th December 2015
Put this in your pipe
For any doubters of Japanese Whisky...I dare you to try a bottle of this and write a bad review! This is my go to blend and has been for several years. You simply cannot find a better dram for the price. Soft, smoky, fruity sweet and you crave more. Long distinguished finish. Beautiful.
10th November 2015
My top contender
Had quite a few bottle of that delicious whisky. Can't recommend it enough. I keep finding myself coming back to that one. Its smooth, complex, with a long finish. Definitely my favorite scotch in that range of price.
1st November 2015
Wow
I just bought a bottle of this surprisingly complex and outstanding Japanese whisky. I read about the quality of Japanese whisky but I was surprised how smooth and complex this whisky is. I plan to buy a case tomorrow. Enjoy!
22nd October 2015
Impressive
I could say lots of great things about this whisky. Trust me, get it and you will buy it over again and again. This is coming from a scotch enthusiast. Japanese craftsmanship at its best. Now my everyday dram.
14th August 2015
Now a believer!
I was one of the "Japanese can't make great whisky guy". Boy was I wrong. This thing is young and smooth but at the same time it has amazing complexity and a finale that seems to linger forever. Now I crave it! Simply amazing. Now I have to get my hands on the Miyagikyo!
14th August 2015
Impressed
I am a fan of hakushu whiskies & have been totally against non age statements. I bought this by mistake thinking it was a 12 year old nikka taketsuru as labeled on the shelf. I decided to give it a try since I have already bought it. I must say I am pleasantly surprised by how smooth & full bodied this tasted. It taste like a toned down hakushu 12. I am glad I have a few more bottles to enjoy.
26th June 2015
Can't be this one
I am a bartender by trading, tried over 200 different scotches/ whiskies, this one blows them all away. very complete taste full body, smooth, and enjoyable to drink, just pick up a case of 6, will probably need to order more as they go fast, don't hold back on this one folks, ENJOY THE JAPANESE STYLES
8th June 2015
Nikka Taketsuru Pure Malt
The luxe aroma mixes rich butterscotch and apple sweetness. On the palate, this whisky is light and gentle, interspersing fruit and smoke and finishing with a spark of cinnamon heat. Add a splash of water; recommended for sipping.