Springbank Campbeltown Single Malt Scotch Whisky 10 year old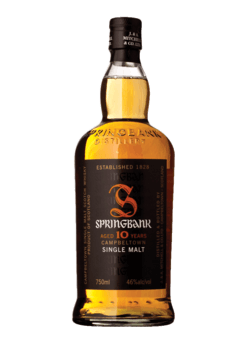 Bourbon casks are mainly used for maturation, sherry casks are also used for added body. Aromas, from citrus fruits to pears and a hint of peat. Complex tastes of smoke, vanilla essence, nutmeg, cinnamon and the salty tang.
Wine EnthusiastSmells of dried figs, sultanas, lime marmalade, sea breeze, green olive, lemon grass, malted milk and unsweetened coconut. The taste profile asserts itself in the forms of light caramel, paraffin and almond paste; at midpalate the spirit becomes more evident as the off-dry, malty, moderately salty flavor warms the tongue and throat. Concludes gracefully and elegantly, with a mild rush of heat and smoke.