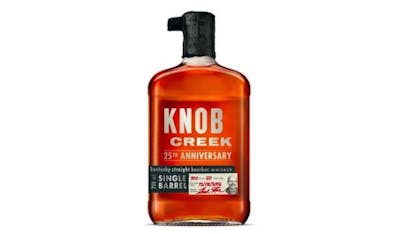 SKU: 80686016465
Knob Creek 25th Anniversary Bourbon
---
---
Knob Creek Single Barrel 25th Anniversary varies in proof around 120 proof.
Appearance: Mildly cloudy (from being unfiltered) with a hue like deep amber honey.
Aroma: Soft on the nose and yet surprisingly deep, suggesting a spicy kick that never arrives. Despite its high proof, this whiskey never feels boozy.
Palate: The flavor starts out with a melange of dark chocolate and vanilla, before transitioning to smoke with notes of tobacco, and a bit of cinnamon peeking through in the finish. This is a whiskey that demands to be savored. A few drops of water turns this into a sumptuous feast of flavor, with apple pie and a strong vanilla component. Whatever burn you may find here is subtle, like glazed ham slow cooked over coals.