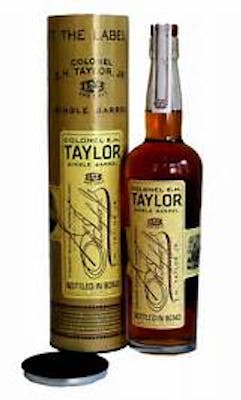 SKU: 88004005511
Colonel E.H. Taylor, Jr. Single Barrel Bourbon
---
---

Bottom line: If you're a Scotch fan, you'll probably enjoy this one. If not, await future releases in the Col. Taylor Collection as more whiskeys will be added to this limited collection over the next few years. We had more of a liking to the first Col. E. H. Taylor, Jr. Old Fashioned Sour Mash Bourbon. However, limited editions can be worth taking a ride while they last.
This E. H. Taylor, Jr. Single Barrel is "Bottled in Bond" at 100 proof and follows the Col. E. H. Taylor, Jr. Old Fashioned Sour Mash Bourbon released around March of this year.
As very limited release, this Single Barrel may be difficult to find. It will be packaged in a vintage label and canister, which are reminiscent of Taylor's bottles nearly one hundred years ago

Distillery: Buffalo Trace Distillery, Frankfort, Kentucky
Age: 11 years and 7 months old
Proof: 100 Proof, 50% ABV
Color: Medium to deeper amber
Nose: Deep Oak, plums, and buttery. The nose contains much the signature oak DNA of the Buffalo Trace Antique Collection and other Buffalo Trace Bourbons.
Taste: Enters sweet and buttery, goes to a mild zesty citrus character and the swallow is a prevalence of "smokiness" reminiscent of a Scotch. The acidic nature plays against the smoke in a strange fashion at first, but after more sips bec
Relatively smooth for 100 proof, this light, silky Bourbon shows bold vanilla and toffee, plus a mouthwatering baking spice finish. It's a good sipper with an ice cube, or mix into a top-flight old fashioned.